Christopher Rogers is a well-respected member of the international corporate executive protection community. He is a Certified Protection Specialist (CPS) graduate of Executive Security International (ESI) and holds a Doctor of Philosophy (PhD) in Security Administration from Southwest University, where he graduated cum laude. Rogers is also a 9-year former police veteran.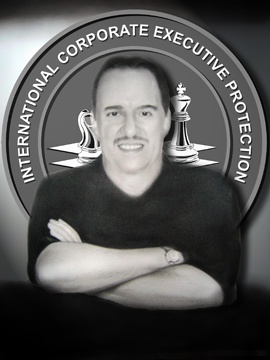 Since 1991 he's been the Director of Diplomatic Protection for International Corporate Executive Protection (ICEP), a private executive protection and corporate security consulting firm operating in the Far East and Southeast Asia.

ICEP's clients include CEOs and senior executives of top major public corporations, media figures, religious leaders, movie, music and fashion icons, champion athletes and politicians. Rogers also provides training in his areas of expertise to foreign governmental law enforcement and military units.

Rogers, an expert in the underground workings of Third World Asian countries, has the academic, professional and insider credentials to offer unprecedented insight and invaluable expertise on corporate executive protection on an international scale.

Christopher Rogers, author of the exciting new book entitled CORPORATE EXECUTIVE PROTECTION - A MANUAL FOR INSPIRING CORPORATE BODYGUARDS. "The book entitled Corporate Executive Protection provides solid advice on career transitioning and landing a successful and highly lucrative executive protection career. It provides a thorough briefing and the reader is able to profit from our valuable lessons learned on international corporate executive protection deployments in Asia and the Far East. It provides the reader with invaluable assistance for a smooth career transition into the world of executive protection," said Christopher Rogers, director of diplomatic security for International Corporate Executive Protection." "We are very proud to bring advanced corporately sound executive protection information to the industry." Also soon to be released is the companion Corporate Executive Protection Workbook and Certification Program. Included in the workbook will be the new Executive Protection Management Division, created to drive the need for well trained and managed executive protection agents specifically targeted to the worldwide corporate executive community.